I am going to start doing a RIG walk around every week and I want Lee to be the first start it off! So here we go!
Over the past year of overlanding crossing multiple States, traveling thousands of miles and camping in very remote parts of this great country we live in , not only me and Lee have become best friends but we have become brothers.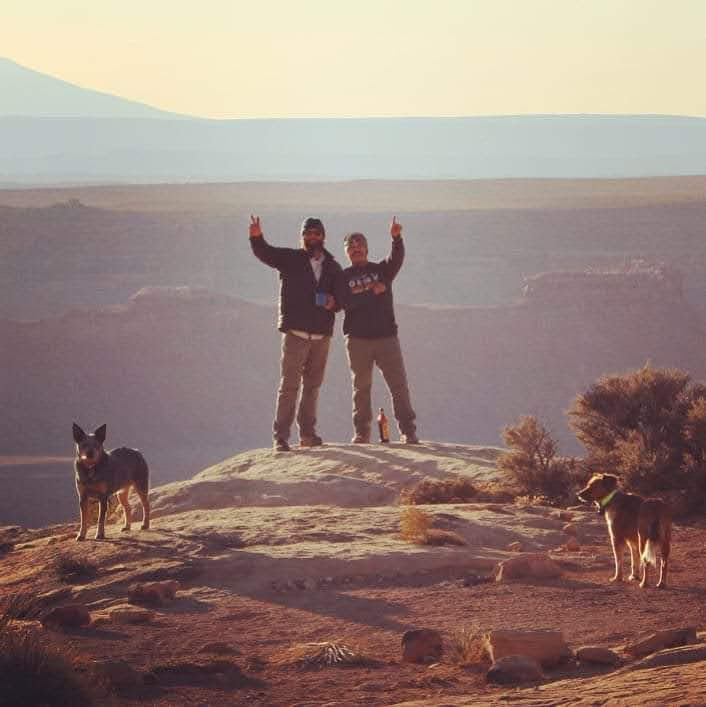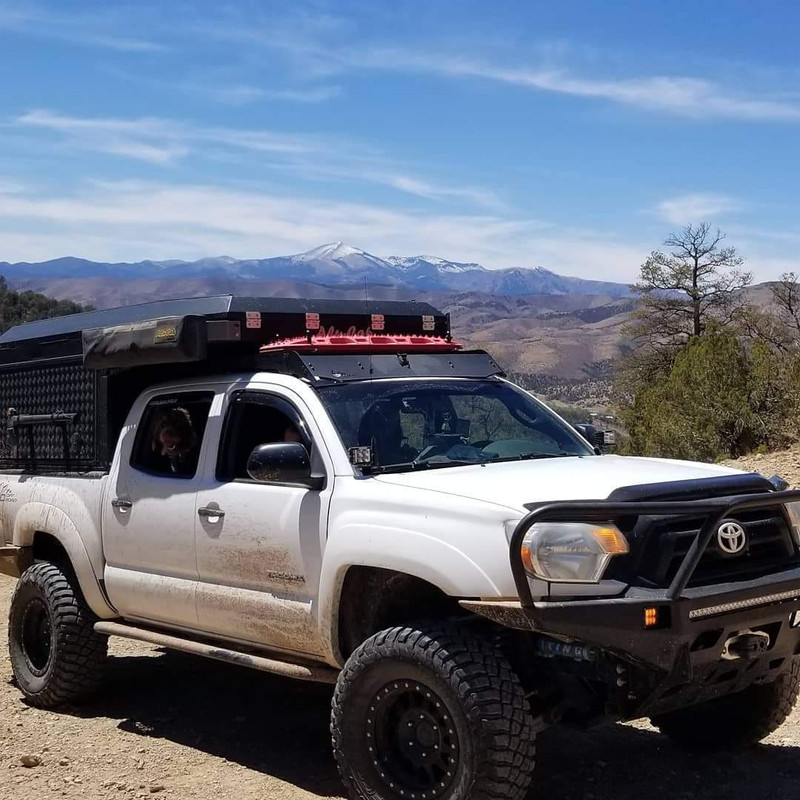 Vehicle: 2013 Toyota Tacoma TRD 4×4
Suspension:  Total Chaos 2 inch long travel upper and lower control arms, King 2.5 coil overs with reservoirs, Limit straps front and back, King Double bypass shocks in the rear, King bump stops, Front body mount chop, Lower control arm cam tab gussets, Welded spindle gussets, McNeil Racing fiberglass front fenders, 2 inch extended chrome moly front axle shafts, All Moog steering joints, Outlaw Overland rear axle housing brace, Alcan 1000 lb. over stock rear springs, Total Chaos welded hoop kit for shocks, Welded shock mount relocation on axle housing, Archive Garage 'Hammer Hangers" and rear brace, Archive Garage Shackle flip kit, Extended brake lines, Custom Firestone airbags using Daystar cradles so the suspension can flex properly.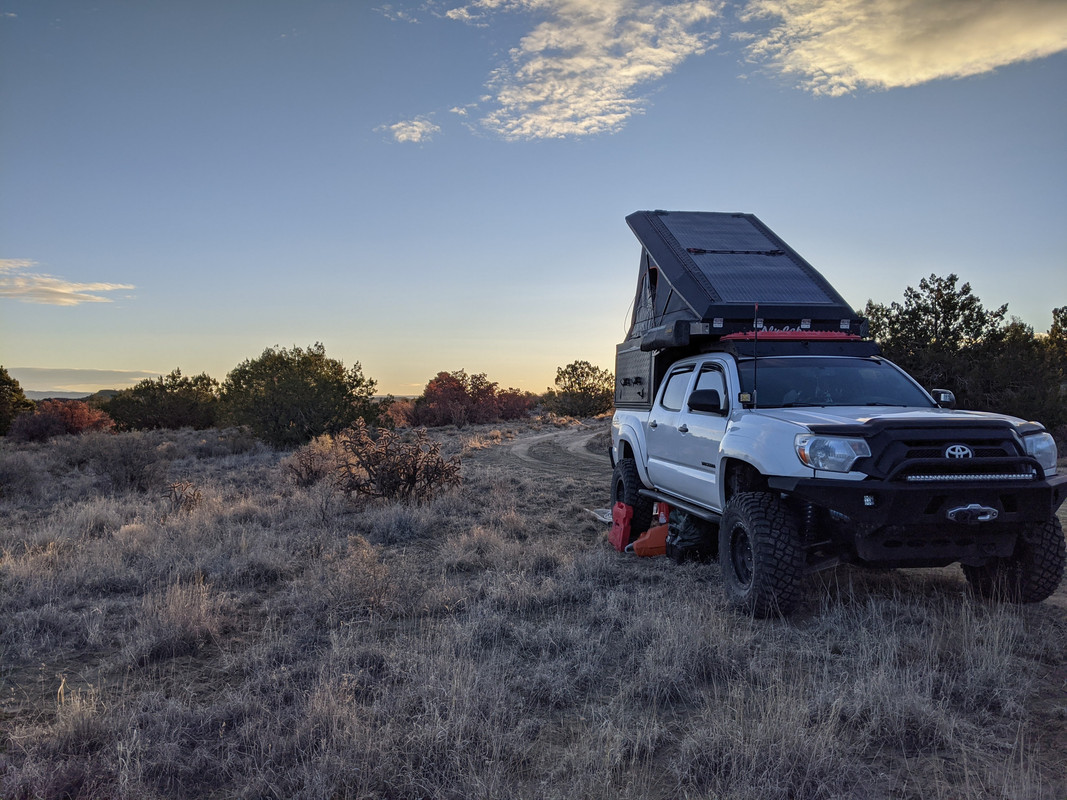 Drive Train: 4.0 motor, 5 speed auto transmission, Scan gauge 2 engine and trans monitor, add a trans cooler 3 times stock size with inline filter, Mounted a 11 inch fan to the front of the trans cooler for trail riding, CSF Aluminum race radiator with the trans fluid bypass, Disassembled the clutch fan, baked out the factory oil and replaced it with RC car 10k oil for more pulling power from fan, High output alternator will the next install, Dual battery system from Matt at Off Grind Engineering, Odyssey batteries, Dual ARB air compressor, 3lb air tank mounted under rear bumper Slee Off-road compressor mount, SPOD lights and Locker controls, Nitro 4.88 gears, Nitro Chromo Moly rear axle shafts, ARB air locker in front diff.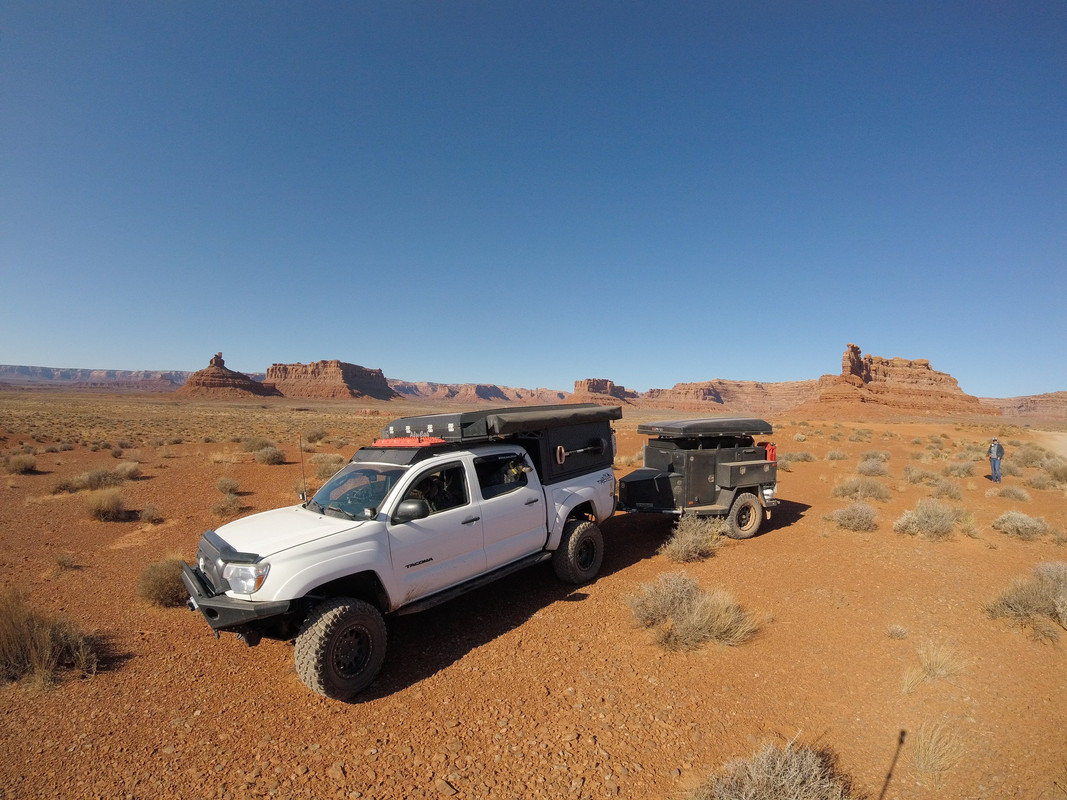 Bumpers and Body Armor: Custom made bumpers from Travis at SOB bumpers right here in New Mexico, Front bumper has full hoop coverage over head lights with integrated led bar and amber running lights, Warn 12k Zeon winch, Rear bumper is a High clearance dual swingout with metal molly system on driver with 2 gas jerry's and spare tire on passenger, Rock sliders are ALL-PRO off-road as well as the belly skids.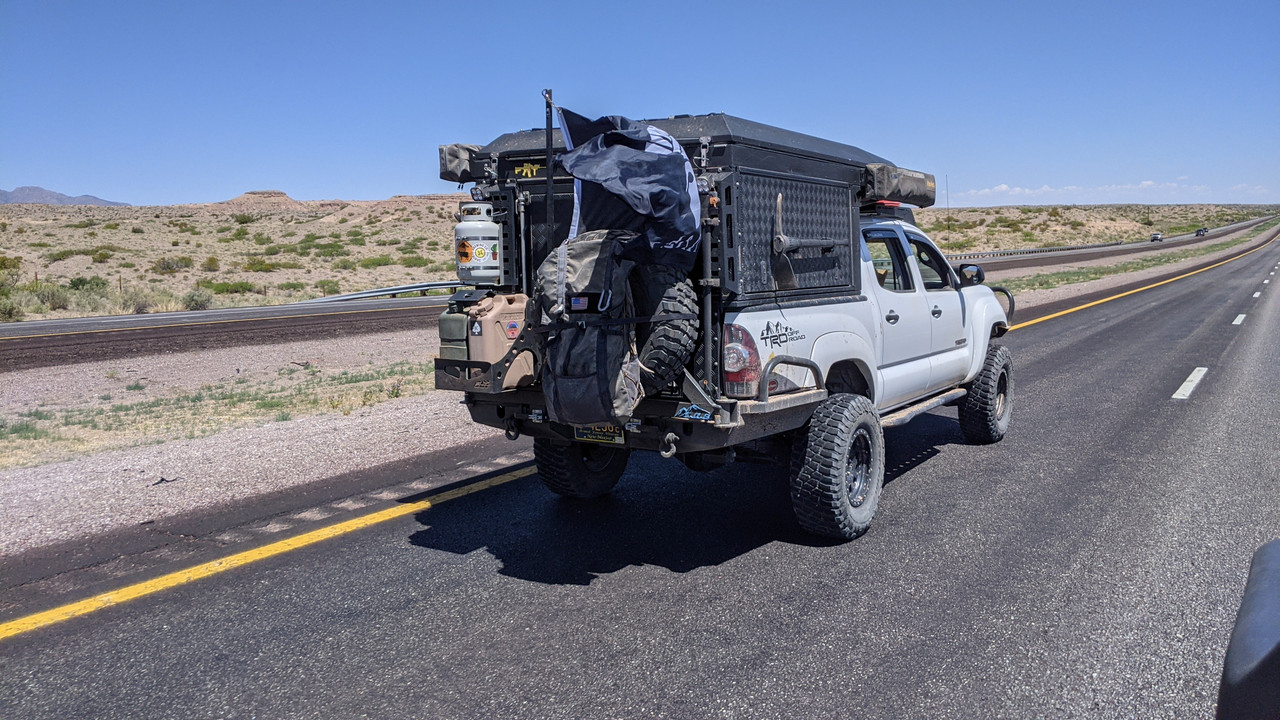 Tires and Wheels: 16-inch Method 305 Flat Black Wheels, BF Goodrich 285/75/16 KM3 Mud tires.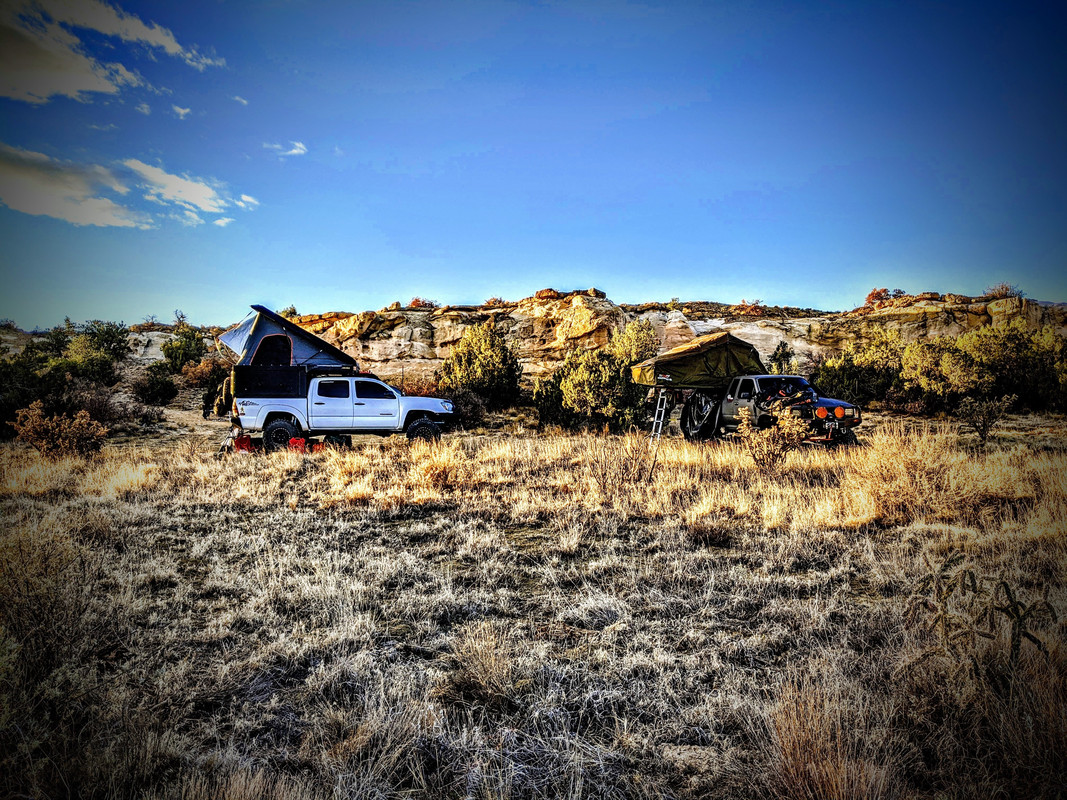 Comms and Lighting: Communication is HAM radio with Midland Antenna and Cable, Rigid Industries hood pod lights, RI 30 inch light bar, Baja Designs squadron rear back up lights, Expedition Essentials dash media bar, RAM mounts, Garmin InReach satellite tracker/SOS, 10 inch tablet with Gaia GPS mapping.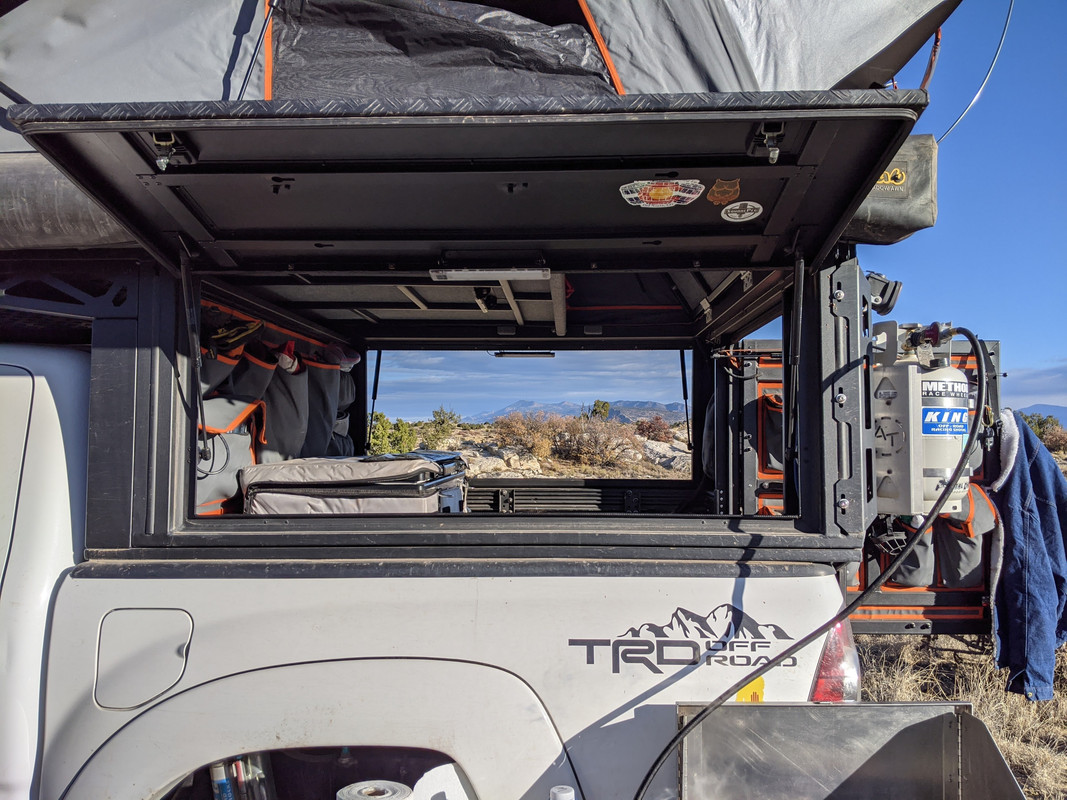 Camper Unit: Alucab Canopy Camper, Alucab 270 awning, Alucab shower cub, 2 126 watt Sunflare panels, RedArc power monitor, front runner shovel, pickaxe and axe mounts,  Blue Ridge Overland Trash bag, Snowmaster Refrigerator, AT Overland propane tank mount, Prinsu roof rack, MaxTrax recovery boards, Lifer Saver Jerry can/ Gas.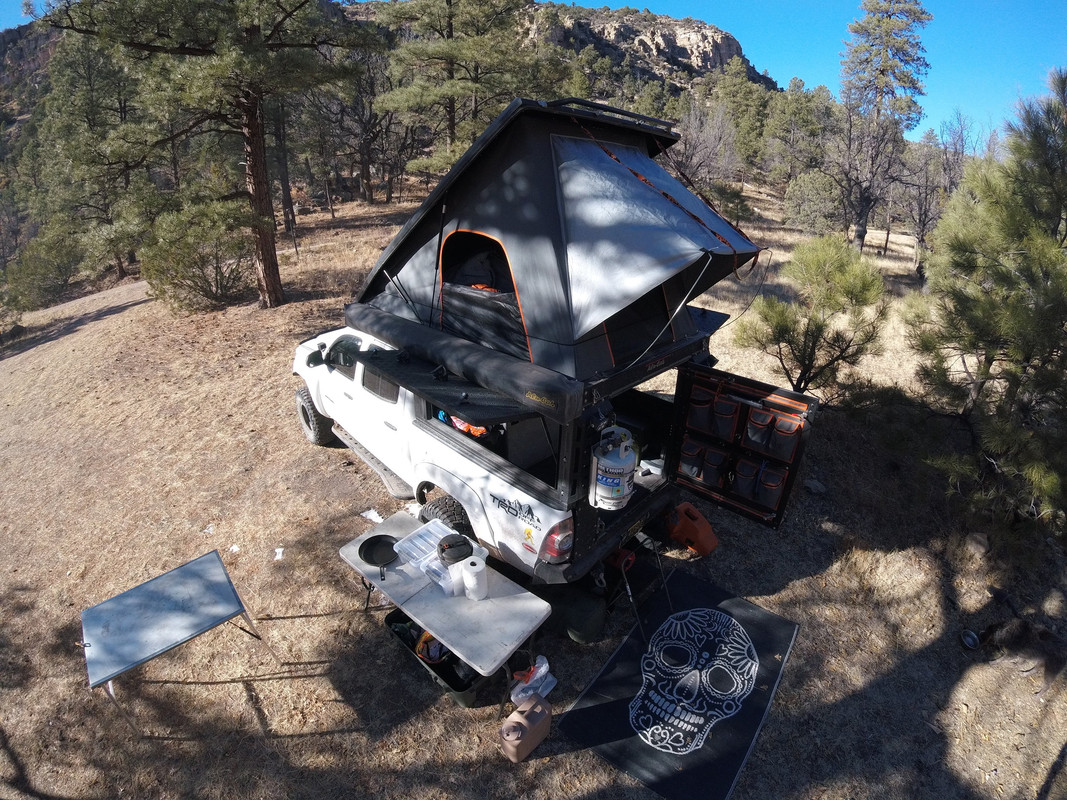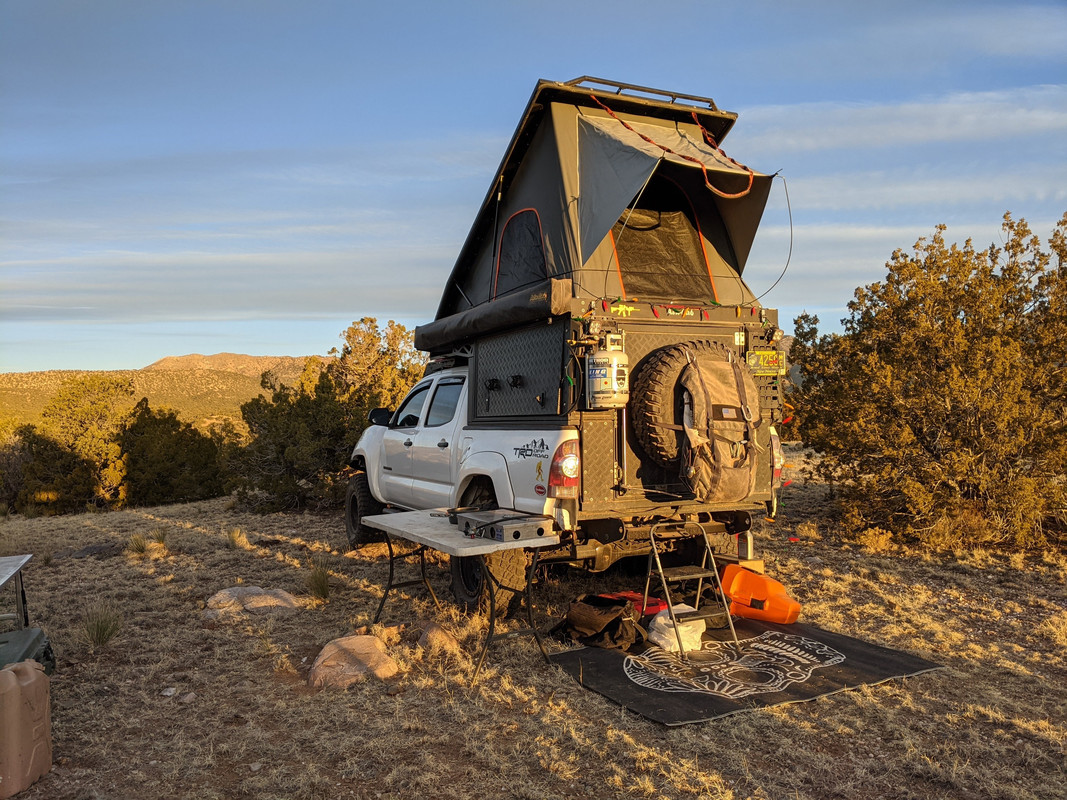 Extra Mentions:  ARB tire plug kit, ARB tire deflator, Blue Ridge Overland tool bag, gas and battery Stihl Chainsaws, Custom Med Kit, Custom built shower unit, Custom built water filtration system, Recovery Kit, Goal Zero solar generators, Cook Partner stove and Dutch oven.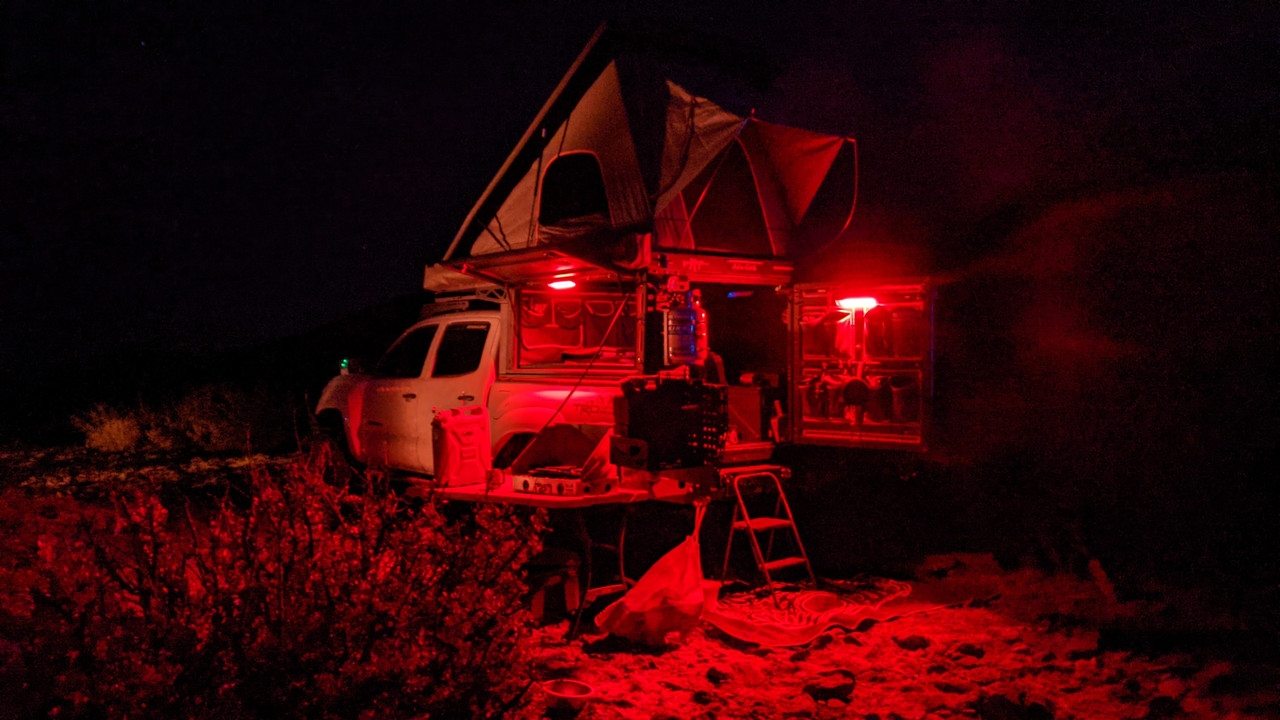 Why do I like Camping? 
My love of the outdoors started when I was a young boy growing up in a very rural part of Mississippi. I was raised on a small farm, where I worked hard labor at a very young age with my grandfather learning what it was like to work with your hands and have something to show for it at the end of the day. We owned a little grocery store called "Ready's Grocery" where we sold normal products, gas, and fruits and vegetables we had left over from my granny canning. I fished after work in the morning until dark nearly every day. I didn't even know about my love for the outdoors until I grew up, I just lived it! At 18 I joined the United States Marine Corps as a 0311 infantryman, which later was deployed to Japan where I became a Jungle Warfare Instructor. This was right up my alley, I lived in a hammock under a tarp nightly in triple canopy vegetation teaching Marines repelling techniques, survival, land navigation, tactics, SERE level B, and human tracking. So, my life was living in the jungle constantly, crossing rivers, constantly wet, drying our boots and clothes by the fire nightly! After leaving the Marine Corps I became a Federal Agent for the Department of Energy transporting our Nation's Highest Assets. Which requires constant field training, again right up my alley for living and loving the outdoors. But with all this said and as I've gotten older life has just gotten to fast! I always think back of those times as a young boy and being with my grandfather swinging on the porch with not at care in the world. Reflecting on how everything has changed and the direction we as a nation are headed got me thinking on how to temporally escape it. I bought a Tacoma years ago that had some gear I'd never seen before "RTT" etc.. So, my wife and I started going camping a lot after that, researching other gear etc. Until it has completely consumed our life! We do this year-round nearly every weekend! If we are not out I'm generally turning wrenches and do vehicle maintenance to go out. It has became a lifestyle and passion to explore and enjoy the outdoors and meet new people. It's a running joke around the fire at night. How could anyone like doing this! LOL We love this life and will never leave it. THE READY's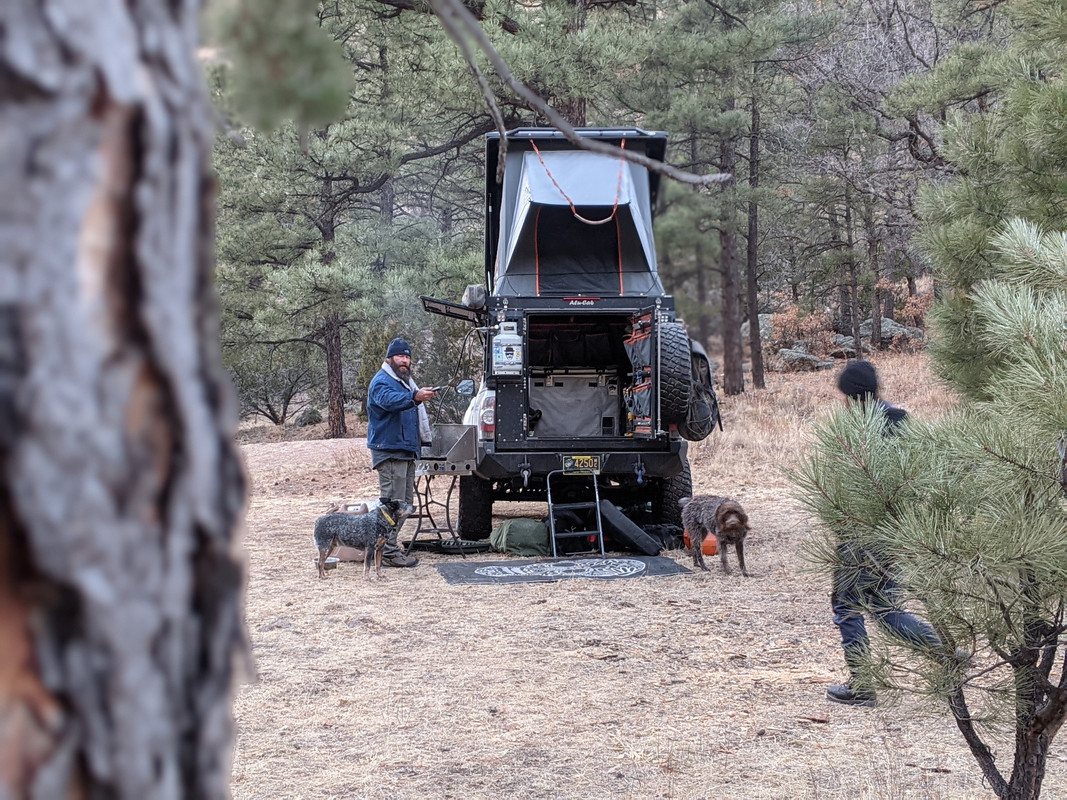 What could I tell someone that's getting into "overlanding" 
I would start with is the love of the outdoors what you crave? If so, it doesn't take that much to get out there and start doing this. Yes, you can spend your life savings in vehicles, parts, gear, etc. But you don't have too. Matter of fact you should just take what you need to get to camp, recover yourself, protect yourself, eat and sleep. Do this for several weekends straight, it might not be what you were thinking it would be in the first place and you haven't wasted a ton of money because your buddy does it and you thought you would like it. If you do decide to get into this sport well that's another complete story on what works, what doesn't, what not to do, where to start, etc. So, my advice is get out and enjoy nature, respect nature, leave places cleaner than you found them, follow fire bans and the laws on protecting it. And see if its for you!